CONTENTS:

Homepage

Today's Cartoon

News

Story

Email Me before it's too late!
Ye Officiale "Too Much Spare Time" Website

Ladies and Gentlemen, and Undecideds... for your viewing pleasure, the quality controllers at GCW have compiled a list of what they in their opinionated opinions believe to be a scientifically determined selection of... The BestTM Goodbye Cruel World Cartoons Ever!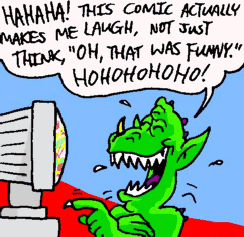 In choronological order, not necessarily bestness.
---
THE BEST OF SERIES I:
"Teaching Our Children" 16/01/01
"Nightmare On Leon Street" 23/01/01
"Martian Conspiracy #1" 25/01/01
"Martian Conspiracy #2" 31/01/01
"Time Travel For Dummies" 01/02/01
"Dinner With The Pope" 02/02/01
"Science and Ethics" 07/02/01
"How's Bonnie Doing, These Days?" 09/02/01
"Tasteless Cartoonfomercial" 02/03/01
"More than Just a Cellphone" - Kicking off "Anti-Stand-Up Comedy" week! 05/03/01


THE BEST OF SERIES II:
"Mathematics and Ethics" 26/03/01
"The Dawn Caffeine Fix" 02/04/01
A Tribute to William Hanna (deceased) 09/04/01
The Good Friday Spesh': Jesus Christ, Superhero! 13/04/01
The Easter Sunday Special! 15/04/01
"Joining The Academy" 18/04/01
"A G.C.W. Special Announcement!" 27/04/01


THE BEST OF SERIES III:
"The STAR WARS Episode!" 04/05/01
"Touchdown: Mars" 16/06/01
"The American Independance Day Special!" (Sorry, I couldn't spell independence.) 04/07/01


THE BEST OF SERIES IV:
"Cartoonfomercial Promotion" 09/11/01
"Those Whacky Deities" 12/11/01
"Noel Interrupted" 28/11/01
"The Goths" 02/12/01
"Scantily Clad Female Superheroes Gratuitously Jelly Wrestling!" 18/12/01
"How Noel Ruined Christmas" 22/12/01
"Goodbye, Yule World!" 25/12/01
"The Four Horsemen of Adolescence" 28/12/01
"Best Served Cold" 30/12/01
"The Morning After The Year Before" 01/01/02

THE BEST OF SERIES V:
"Natural Selection" 16/01/02
"Leon's Toast!" 23/01/02
"Leon finds True Love" 14/02/02
"Showdown Between Good and Evil - PART II" 25/02/02
"Spuddy and the Vegetarians" 22/03/02
"In the eyes of Today's Youth" 04/04/02
"Evil Bin-Evil!" 10/04/02

SERIES VI:
"LemmingDance" 22/07/02
"The Story So Far" 29/07/02
(Note: I don't like this one very much, but somebody else does and that's good enough for me to qualify it as a "Bestov"!)
"The Never-Ending, WHACKY Adventures of Edward!" 05/08/02
"Sick of GCW?" 12/08/02
"Origin Of The Feces" 26/08/02
Guest comic: "Noel Picks Up Smoking" 02/09/02
"The Ultimate Penis Game" 05/09/02
"Noel's Plan With What's-His-Face" 04/10/02
"Tragic Mix" 28/10/02
Halloween Spesh 2002: "Grey Wedding" 31/10/02
"Leon and the Carob Factory" 04/11/02
Imation Still Sucks, Part 2: "Invasion of the Antigoths" 17/11/02