CONTENTS:

Wednesday, Week Sixteen: 18/04/01
---

Having discovered that there is no academy of web-cartoonists, Leon decides to found one of his own...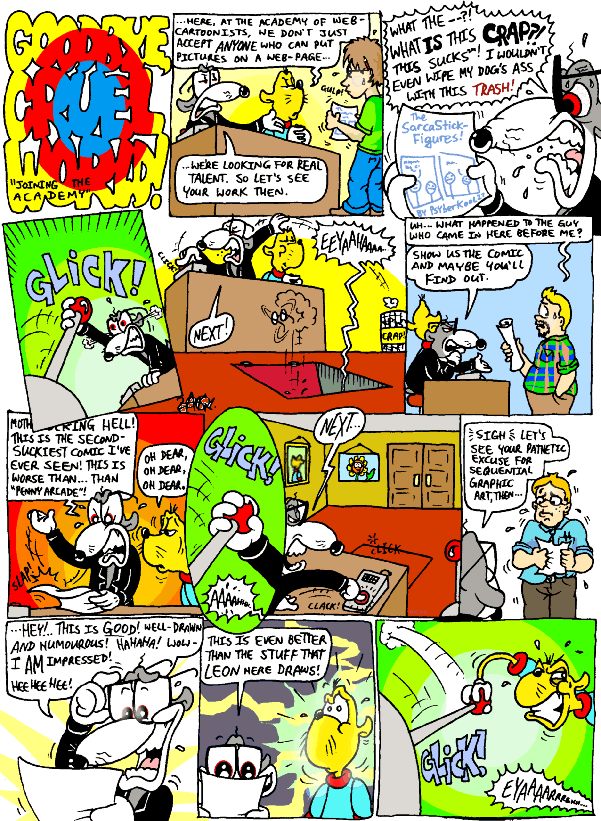 ---

This cartoon says it all, really. The competitivity (is that really a word?) that exists between cartoonists, born out of their own insecurity and self-doubt that arises from striving to improve their drawing style. No, it's true. Go onto any web-cartoonist's messageboard and tell them their artwork SUCKTMs. They will go away and cry, and then they will return, more powerful than you can imagine...

Anyway, the bit that I *like* about today's comic is "The SarcaStick-Firgures". What a typical cartoon; it just captures the essence of very SUCKTMy web-comics.

Typing of which, some of you may think that "This is worse than... than 'Penny Arcade'!" is a little harsh (on "Penny Arcade", I mean, not the crappy comic that it was being compared with - which, I may add, was too SUCKTMy even to SHOW in this family cartoon!). Nonsense! Noel said that it the SUCKTMy comic was the second-worst comic he'd ever seen, and that it was worse than Penny Arcade. Therefore (or thus, if you prefer), "Penny Arcade" is NOT being described as the SUCKTMiest web-comic ever. Which is, in "Goodbye, Cruel World!", the equivalent of a compliment. Queue-ee-dee!
---
CLICK HERE TO VISIT TODAY'S EPISODE OF LEON'S NEW WEB COMIC!