UCSA DRAGON COMICS 2004
---
27/09/04: END OF TERM CLIFFHANGER!
"Iggy Does The Undie!" (Printed: Wednesday, August 18, CANTA Issue 19)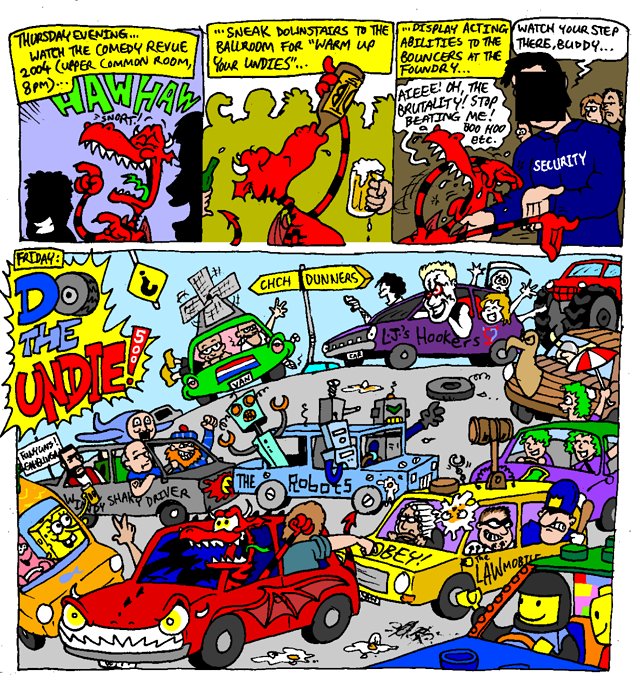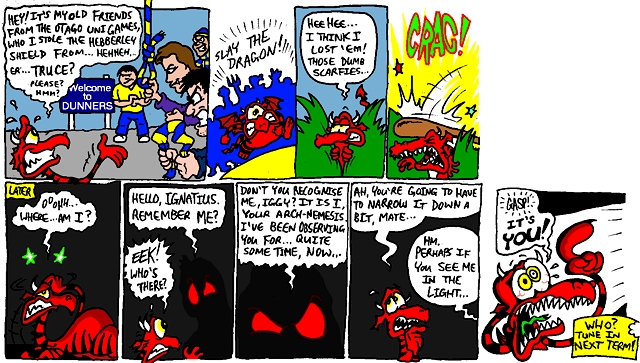 The Undie 500 is a proud Canterbury student tradition where students do up their cars with a theme, throw eggs at each other, and then race to Dunedin, getting their passengers drunk at various pubs on the way. The entrants' cars must be under $500, hence the title "Undie 500".
I knew that this year my brother was doing a "Spongebob" theme, but I had no idea that there would be a Lego themed car, nor that it would end up winning a prize for being original or something. I also had no idea that there would be an "LJ's Hookers" car, but there was - even though it wasn't populated by Limbo Jimmy and his harem.
The Bouncers at "The Foundry" (the UCSA student watering hole) had been getting a few "nasty letters" about them written to CANTA, with students complaining about getting turfed out on their drunk asses. Remember that, gentle reader.
I wonder how many people understood the "Windy Shaky Driver" car? Hopefully not too many...
---
First Dragon Comic|Next Dragon Comic|TmsT ComicPage

---