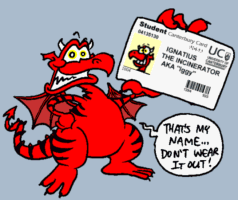 The University of Canterbury Students' Assocation's

Iggy the DragonCartoons!
---
As seen in the pages of CANTA, the student magazine, in 2004:

Episodes 1, 2, 3: Hatching, Clubs Day, Growing
Ep 4: Iggy's Amazing Ability
Ep 5: Lectures
Ep 6: The Uni Games, Otago
Ep 7: Easter Holiday Snaps
Ep 8: Early-Winter Christmas Special: Essays
Ep 9: The International Festival
Ep 10: Ignatius In Wonderland
Ep 11: Political Satire
Ep 12: Letters to the Editor
Ep 13: Mid-Year Exams can be a game!
Ep 14: A brief history of Timetable Clashes
Ep 15: Conscience Fiction
Ep 16: Post-Martin
Ep 17: Iggyrella goes to the Ball!
Ep 18: Friday the 13th
Ep 19: The Undie 500
Ep 20: Iggy versus his arch-nemeis

THE IGGY MOVIE!
Ep 21: Post-Election Nightmare World
Ep 22: The MADCAP AWARDS!
Ep 23: The Pranking
Ep 24: The Finale
---
THE REJECTED STRIPS (from next year):

A Student Protest
Parking: A Tale of Too Many Honda Cities and other vehicles
Graduation for cynics

---

---