CONTENTS:

27/01/02: Let's take the mickey out of NZ film and television!
---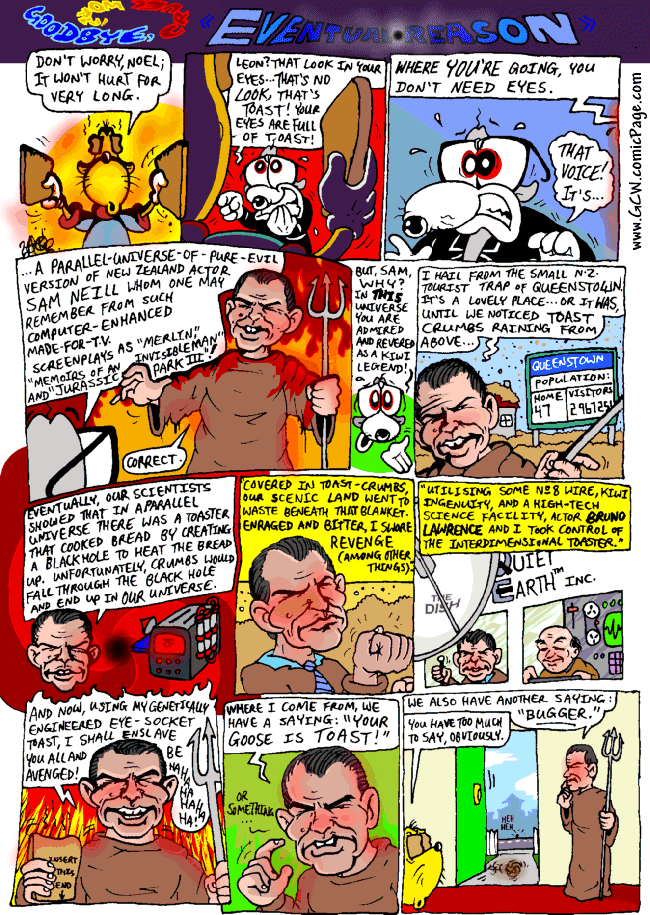 ---
Why does everybody reckon that my (admittedly lame) caricature of Sam Neill looks like some famous All Black who I've never heard of? It's a conspiracy! The All Blacks are all parallel-universe-of-pure-evil doubles of famous actors, I tell you!

Anyway, I think it's funny that quite coincidentally to this "Evil Sam Neill from a parallel universe of pure evil" twist, there is now a BBC doco on TV which consists of Sam Neill wowing us all with mind-blowing facts about the cosmos.

This cartoon is all part of GCW's "take mickey out of New Zealand film and television" season. Who's next? I'll give you a hint: The title of the next episode of GCW is "Lord of the Wrongs"...
Today's Quote:
"Where we're going, we won't need eyes to see." - Sam Neill as Dr. Weir from that computer-enhanced made-for-TV sci-fi, Event Horizon
(NOW do you understand the reference? He also said "Right, well, uh, using layman's terms: use a retaining magnetic field to focus a narrow beam of gravitons. These in turn fold space-time consistent with Weyl tensor dynamics until the space-time curvature becomes infinitely large and you produce a singularity.")
---