Welcome to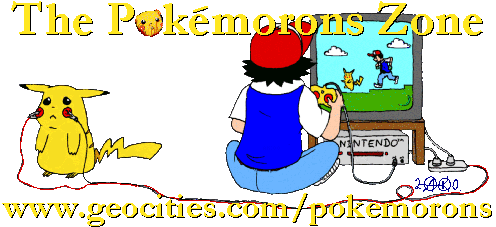 So long, farewell, auf wiedersehn, good riddance!!!

---
Ash Tray's Comments: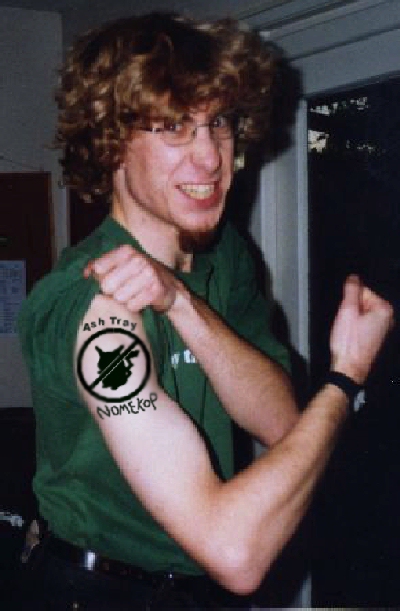 I would just like to leave you all with this anthology of The Pokémorons Zone:
---
A BRIEF HISTORY OF TPZ:

Whilst searching the 'net for pictures of "Star Wars" characters, I stumbled upon a site in called "Tickle-Me Yoda": there's apicture of Yoda; when you move the mouse over him, he bounces up and down, giggling. When you click on him, it loads up a page where Yoda is permantenly laughing. I was impressed by this creative use of Javascript and decided, "Wouldn't it be cool if: there's a picture of a fly or something, and when you put the mouse over it, it flies around until you click on it, and then it gets swatted?" And, since I had watched Pokémon for about the first time the other day, "And what if it was not a fly, but one of those annoying anime critters; a Butterfree?" After downloading a picture of said Pokémon character, I... er, "borrowed" the javascript code from the Tickle-Me Yoda site and modified it for my own purposesm and uploaded my creation, "Croakémon", totally unaware of the fact that like all good experiments-gone-wrong, it would soon become a monster. The original files are dated "Nov 04 1999", so that is the official bithday of TPZ, even though its name "The Pokémorons Zone" was not given to it until late December.
How did TPZ get this name? Well, when I was choosing a name for the orginial Croakémon site, the names "Croakemon" and "Pokemoron" were already taken (although they didn't have website attached to them), so I just pluralised "Pokemoron". Further developments in the site were made on a local server, which was much cheaper, but when this resource became unavailable, it was back to geocities again. When "Croakémon" expanded from merely the "Kill The Pokémon" page into "The Apokélypse Conspiracy" and some links, it needed a new name. After toying with ideas like "Ash Tray's Pokémorons Page" and other even lamer titles, I arrived at the term "Zone". "The Pokémorons Zone... Ugh, it'll never catch on, but it'll do for now."
With the dawn of the new century came the Artwork and Software Galleries, followed by "The Pokémorons Press" and eventually "To Kill A Pokémon" plus the other sections which we all know and love, as it were. Then the music comes in! The Pokémorons Zone made it into the top half of the top 25 antipoke sites and kept crawling steadily up the top "100" list.
So it started to get a bit crowded. The links to the various sections were organised into a grid, but this was kind of non-standard, so everything was assembled into a website with *FRAMES*! Oooh, aaahh, the people said, and little kids pointed. And clicked. The subsequently TLA-ified "TPZ" raced up the "Top 100" list, and was asked to join eAds for sponsorship. (What a mistake! Not only does Geocities not allow outside sponsorship, as I accidentally found out later, but my target audience - antipokes - are not the type who click on ad banners.)
Around halfway through the year, I found that other more pressing matters in the real world (whatever that is) and on other websites. I made it my final mission to complete the Psykomon story/game, and ,after it had been uploaded, left TPZ to stagnate for a bit. Now, in October, I am hereby handing over primary control of The Pokémorons Zone to some character called "Saf" who can update it more often than I. I'll still be around to add Croakémon animation and maybe the odd picture, but as of now, this site, www.geocities.com/pokemorons/ has reached the end of its brief but exciting life.
The Pokémorons Zone was almost one year old.

---
Credit must go to the following entities: Mistake, Crock, Travesty (cheers guys/gal), The Evil One (there's a secret message for you: www.geocities.com/pokemorons/[your name, NOT your TLA].htm), WynMcDnld@cs.com (for keeping us laughing - at you - yes, we know what you and Gebgar Hardy were getting up to!), Casey Gaines & Zerg Zergling, Psychodoggy, Dan Berger, (the publicity team!) Arlen Christian Mart Thomas Alan Cuss (Baa!), Cynicallia (pix), BBall0087@aol.com (stuff), Matt c/o Ron Meinel (ideas), PokeMutilator (cool stuff), Otto da Fé (antipoke!!!), Titi (of F.L.A.P.), Bandiman87@cs.com(killallpokemon.net), The Anti-Pokemon Webring, Éric-Sébastien_Lachance (Pokemon Zero), Sir Lucas S Daniels (messageboard), Lemur-Girl (purity test engine reference), legendinmysparetime@altavista.com (http://charmander.usuck.com - another messageboardie), Nintendo Of America (get real, dumbass) and, of course, YOU for visiting this website.

Gotta kill 'em All!
---
You like this website? Then click below... (Image is broken at the moment - not my fault, blame aol.com - so I'm substituting a Dopefish until they get off their big fat arses and fix it.)


---
The Pokémorons Zone is maintained by me, Ash Tray, NOMEKOP (Non-Official Mutilator, Exterminator & Killer Of Pokémon), and was updated for the very last time on October 15, 2000. Goodnight.


<!-Oh, no! I have been converted to the Dark Side! The basis of this page was made in Netscrape's Webpage composer!-->